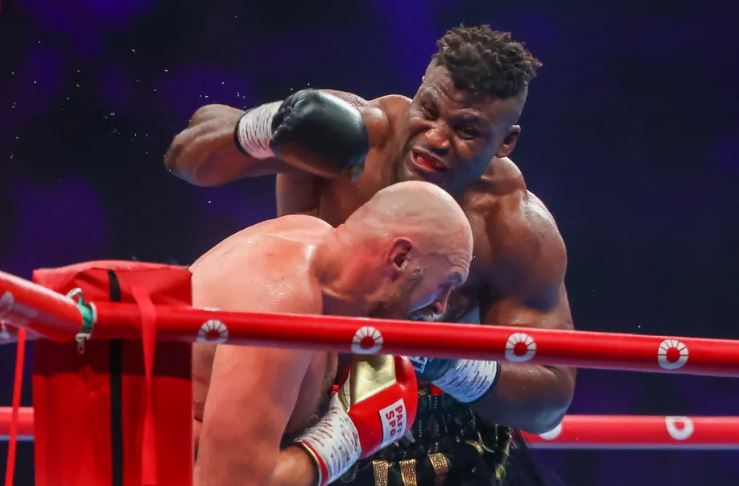 Francis Ngannou boxed beautifully and beat Tyson Fury
Francis Ngannou impressed many with his boxing debut, including at least one pundit who makes a living breaking down the action in the squared circle.
Boxing analysts Lennox Lewis and Carl Frampton were joined by MMA veteran Dan Hardy on the TNT Sports post-fight show to talk about Ngannou's incredible performance against Tyson Fury, who eked out a split decision win against the former UFC champion.
While Lennox backed his fellow heavyweight great and Hardy sided with the MMA fighter, Frampton broke rank and gave the nod to Ngannou.
"I'm going against Lennox as well and I'm going to go with Dan Hardy here," Frampton said. "I thought that Francis Ngannou won that fight. At times, I couldn't believe what I was watching and I think we've all done it. People who were picking Tyson Fury to win this fight and win it clearly, we were doing it rationally, we were trying to think rationally."This is a guy in Francis Ngannou coming in to his first boxing match and fighting the heavyweight champion of the world, how was he supposed to win? In my eyes, he won the fight. I think Tyson maybe overlooked him. He struggled with his style, he was very awkward. We all thought Francis was going to come and swing. He boxed beautifully at times."
Ngannou scored the biggest shot of Saturday's fight, landing a looping left hand in Round 3 that put Fury on his backside. He put on a spirited performance for the rest of the fight, but only earned one 95-94 score on the cards, while Fury claimed the victory with 96-93 and 95-94 scores.
See Lewis's and Hardy's full comments below.
Lewis: "I thought Tyson Fury won. He was throwing a lot of punches, he was getting that jab going, and I felt that Ngannou, oh my God, he really surprised me. He showed really good poise, patience, and you could tell he was waiting for that perfect opportunity. He threw a punch where Tyson was basically off-balance, the fundamentals weren't there for Tyson, he wasn't 100 percent, and this was like a warm-up fight to the big fight for Tyson Fury for me."
Hardy: "I hate to disagree with the legend that is Lennox Lewis, but I could count the shots that Tyson landed. Clean, quality shots, I could count them on one hand. I feel very disappointed for Francis Ngannou. I thought he put an incredible performance in and I think, we're going to hear all week, the boxing community is going to try and discredit him to try and save the face of boxing, but for me, Francis Ngannou won that fight."