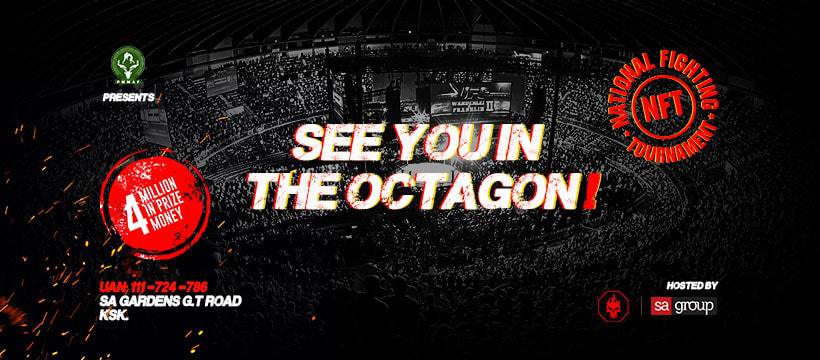 NATIONAL FIGHTING TOURNAMENT SEMIFINALS
Continuing its efforts for the promotion of MMA in Pakistan, SA Group is hosting "The National Fighting Tournament" at SA Gardens. The thrilling event made its triumphant start on 15th November 2021 with quarterfinals. After the successful quarterfinals, semifinals were held on 1st December 2021 in SA Gardens.
Excitement, enthusiasm, the scent of diligence and a feeling of bravery were visible in octagon during the Semifinals of National Fighting Tournament that was organized by PMMAF and SA Group.
The event was attended by Chairman SA Group Sohail Afzal Malik, CEO SA Group Shoaib Afzal Malik, President PMMA Federation Babar Raja, and Sports Head Malik Mohtasim Billah Awan, MD Ghulam Murtaza Rabbani, Director HR Salman Zia, Director Editorial Board Tahreer-e-Pakistan Nauman Bajwa, Director Sales Ahmed Kardar, Director Nadeem Akhtar and a large number of spectators graced the event with their presence.
Chairman Pakistan MMA Federation Islamabad Intikhab Aalim, International Fighter Owais Shah, MMA Expert Shafique Awan, International Fighter Faizan Zain and MMA Officials were present on the occasion.
PTV News anchorperson Ahmad Nawaz hosted the function. Chairman Pakistan MMA Federation Islamabad Intikhab Aalim was the special guest. To entertain the audience, Butt Brothers and Umar Hayat also performed at the event.
In 83.9 category, Abdullah Masood from KPK defeated Irfan Ahmed who was from Islamabad and made it to the final. In 70.3 category, Israr Ahmad from Punjab defeated Muhammad Hassan from Gilgit Baltistan.
Zafar Qasim defeated Hadi after a tough contest in – 93 category. In 70 kg category, Zaib Hasnain from Punjab defeated Sabeeh Ahmed who was representing country's capital Islamabad. In 61.2 kg category, Jahanzaib defeated Muhammad Faisal of Punjab and qualified for the finals.
Chairman Pakistan MMA Federation and CEO SA Group Shoaib Afzal Malik shared his valuable views and said that we will select the best fighters from all over Pakistan and will take them to the finals. They are all our young lions and Insha'Allah we will make Pakistan proud.
President PMMA Federation Babar Raja said that MMA is a game of heroes. Fighters are showing their skills with full passion. It is the honor of SA Group to bring youth of Pakistan towards healthy activities. The winners of this semi-final will participate in the final and they will be rewarded with millions.
International Fighter and MMA Expert Owais Shah said that with such events, the scope of MMA in Pakistan is increasing. Today, 32 fighters are participating in the semi-finals.
In this era of strife and turmoil, it is necessary to keep a positive outlook and to focus on right direction. So, SA Group remains at the forefront in this task of guiding Pakistan's youth so they may use their skills in a positive way by engaging themselves in healthy activities.
We are excited to see that where this journey will lead us.
Stay motivated and connected!