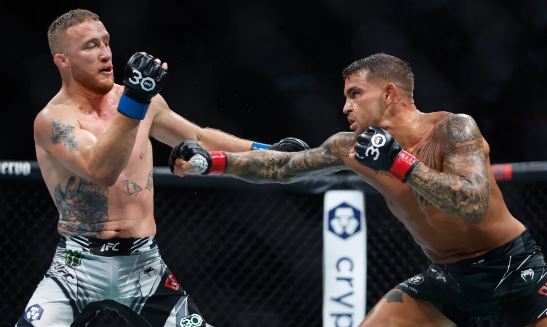 Dustin Poirier open to Justin Gaethje trilogy
Dustin Poirier open to Justin Gaethje trilogy at UFC 300: 'I would take that, for sure'
A trilogy with Justin Gaethje would definitely excite Dustin Poirier.
Poirier's most recent appearance was a knockout loss to Gaethje in a "BMF" title fight at UFC 291. Outside of a short-notice call to step in against Islam Makhachev at UFC 294, which didn't materialize, "The Diamond" currently has nothing in the works – but he's staying ready.
Ideally, Poirier (29-8 MMA, 21-7 UFC) wants to return in the promotion's historic UFC 300 card in April.
"I'm keeping my weight low in case something happens," Poirier told MMA Junkie. "I'm super low right now. I've been like that for the last month. I don't have any plans. If they call me with a name that's exciting or makes sense, like the Gaethje thing, then that was one of those. I was kind of waiting for something fun. When they called me with that one, I was nervous.
"What happened I thought could happen, so that made me excited. We'll see. When they call with that name then I'll do it. I made my debut at UFC 125, Jan. 1, 2011. I'm not going to be here at UFC 400. I'm 34 years old. So, to make it on that UFC 300 card would be cool if I get the right opponent, an exciting fight. I could fight before then. Who knows?"
Gaethje (25-4 MMA, 8-4 UFC) is expecting to fight for the lightweight title in his next fight, but with the UFC potentially looking to rebook the Makhachev vs. Charles Oliveira fight, he could be sidelined for a while.
With their series tied 1-1 after a Poirier knockout win in 2018 and a Gaethje knockout win this past July, Poirier would love a rubber match next.
"I would take that, for sure," Poirier said. "For sure, I would take that fight. (UFC) 300 would be a great card to do it on, but we will see. If I was in Justin's shoes, if he's guaranteed a title shot, you might not want to risk it. But, hey, this is fighting. People get antsy. We'll see what happens, but I'm definitely open to that."